Some people may think that driving forklifts are easy. So, why there is a need to have proper forklift training!
Because misunderstanding while getting forklift training can allow employers delivering as well as employees getting- overtrained information; therefore, it will include spending more efforts than required.
To make the training process more understandable, here are the top six forklift training myths for handling operations get acknowledged.
If An Instructor Has Lost Its Forklift Certificate, He Needs To Be Retrained As a Beginner
If anyone wants to restart his business or a start-up, but do not have any proof of previous training, he does not require full forklift training as a beginner. 
A well-trained instructor should assess them thoroughly and then decide if the significant level of forklift certification or training needed. This way, there may be relevant savings in money as well as time.
A Forklift Operator Must Redo His Training If He Wants To Operate Other Types of Forklift
While providing training to forklift operators, it is necessary to train them every type of equipment they need to operate. However, instead of providing them training from the beginning, existing trained operators can boost their qualifications through any short-term forklift operator course, which can be faster and budget-friendly for employers.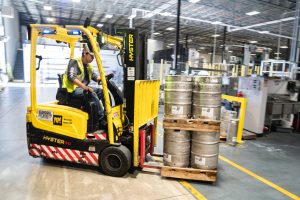 A License Is Mandatory For A Forklift Instructor
First, the people working in a warehouse don't require a license to drive forklifts. However, it is essential to fortify that the operators must complete the entire training. Forklift training can be further divided into three categories: 
Specific Job Training

Basic Operator Training

Familiarisation Training
Once you have finished the training, you will be issued a certificate. This has not a legal significance, but it does play a significant role in providing training to present and future employers.
In addition, employers should also make sure to get authorization before permitting an operator to start the forklift in their warehouse. This Authorization, which may be valid for a certain time or valid only for a specific area, is the only thing you can relate to a forklift license. 
Thus, you can say that it acts as a permit. And, if an operator is not having it, he won't be allowed to drive a forklift at an employer's facility. 
Workers at the Warehouse Can Only Work If They Have a Valid Certificate
Undoubtedly, it is necessary for the operators to carry a valid certificate to their workplace. However, it is also crucial that the operators must know all the particular equipment they need to operate. This is the reason why employers need to provide familiarisation and specific training before authorizing whether warehouse staff or permanent staff to work.
Once Operators Are Trained On a Specific Truck Type, They Don't Require Further Training on Other Models
No, this is not true. When you get training on a specific forklift, it is necessary that you need further training on a larger model in spite of having the same brand. A different model can be relevantly different to operate. Having said that, the operator must acquire conversion training; although, beginner retraining is not commonly required. 
There Is an Option to Save Time and Money Using an In-House Maintenance Team to Examine Your Forklift Regularly
It may sound efficient to use your own maintenance team for forklift examination opposed to the team who checks defaults; this can threaten the safety and legal compliance. 
A forklift operator must look up to the need for pre-use examination to detect any fault.